We're all familiar with the traditional call center, their accompanying sense of dread, and torturous hold music. For many companies, call centers have long been an essential asset to their business. For customers however, being faced with reaching out to a call center is enough to strike fear in even the hardiest of souls. But times are changing and the call center as we know it is a thing of the past: we're now working with the
contact center
.
Of course, for those who find themselves on the receiving end of said hold music, in a situation remarkably similar to that of years gone by, you very well may be wondering what really has changed. And what's the difference between a call center and a contact center? For the most part, customers attempting to reach out to companies with a phone call may not be able to fully appreciate the changes to contact center software that have been employed to make their interaction more satisfactory. But trust us they're there.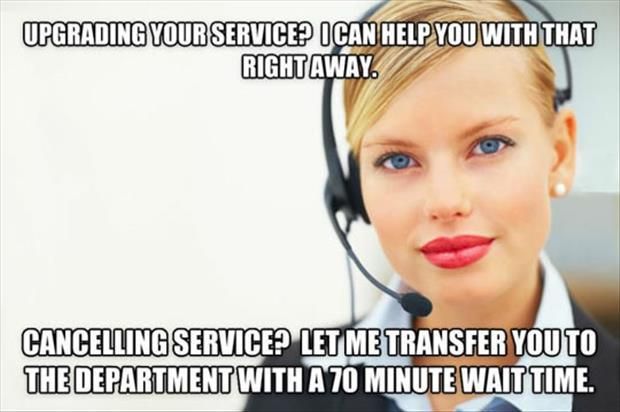 Contact Center Vs. Call Center
Although the two terms are very often used interchangeably, the main difference between a call center and a contact center is that traditional call centers are set up to only handle inbound and outbound calls. The primary purpose of both is to provide customer service; pre- and after-sales support and enquiries. A contact center will more often than not include a call center, but will also offer additional channels of communication.
The purpose of this is to offer customers better service and higher levels of satisfaction whilst also streamlining center processes and tasks, boosting the productivity and efficiency of contact center agents.
In a study by Deloitte, 73% of businesses reported that improvement of service was a factor for growth. When asked about the importance of revenue, customer satisfaction or cost, 43% of businesses answered that customer satisfaction would be more important to them, compared with only 3% that suggested revenue would be most important.
Businesses have shifted their focus to brand and customer experience, and the contact center is a huge part of how well they succeed in these areas.
Key features of a modern contact center solution
Advanced call distribution
Advanced queue strategies
Better collaboration and teamwork amongst agents
Seamless integration between all channels of communication including:

 Voice
 Video
Instant messaging
Website live chat
 Email
Social media

Real-time reporting
Powerful integrations with other applications and software
Increased potential for gaining leads
Enhancing the Customer Experience with a Contact Center Solution
A good, modern contact center software solution will enable agents to work seamlessly via multiple channels of communication and integrated applications and software. Not only does this omnichannel approach allow agents to work more efficiently both independently and as part of a team, but it also ensures that customers are able to enjoy a more fulfilling and satisfactory experience with the business or brand.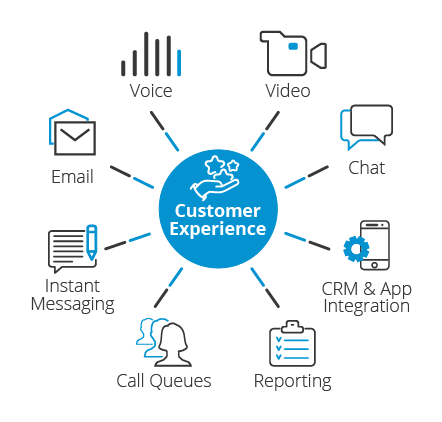 With contact methods such as chat and instant messaging, customers are able to reach out to a business on their own terms, at their own convenience. And, should the case require elevating the exchange of messages to a voice or video call or even the sharing of screens, agents can quickly and seamlessly invite the customer to switch channels, without losing contact or history of the issue. What's more, digital communication and WebRTC allows for correspondence to take place at no cost to the customer, a huge step up from the days of extortionate call center rates.
When it comes to the old fashioned phone call, it's really anything but. VoIP and WebRTC technologies are utilized for lower call charges while seamless integration with CRM and support ticketing applications allows for customer issues to be resolved more quickly and all correspondence to be more cohesive. Additionally, with the advanced features that contact center software can offer, such as queue strategies, agent status availability and easier and more reliable transfers of calls, customers are more quickly able to reach exactly who they need to talk to. No longer do they need to be held on the line for half an hour and then subsequently be passed around to numerous extensions.
Boost Sales by Chatting
While contact centers are more often associated with customer support, where the user is the one reaching out, they are often also used in the reverse, where the agent is the one doing the talking. Call centers have been doing this for years; hundreds of call center agents group together to reach out to potential customers. With modern contact center software, however, there is much more potential to collect and follow up on leads. This can begin with website behaviour monitoring and marketing software integration, which allows agents to view the behavior of customers on websites as well as their purchasing history and cart abandonment.
The great thing about this is that before you engage with a visitor, you can observe their website behavior to get a better feeling for how to personalize the communication. Have they lingered for a while on a particular page? Start by asking them if there is a specific feature they are looking for in their new smartwatch. Have they just added an iPhone to their basket? Go ahead and show them where they can find a protective cover. Are they frantically darting about from page to page? Why not ask them if there is anything about your health insurance services that they haven't been able to find?
This is where website live chat comes in handy. With 76% of consumers doing their purchasing online, we can no longer make use of the traditional sales tactics of yesteryear. With live chat this can be regained, with agents able to reach out to website visitors, assisting them in the buying process, answering their questions, offering them alternatives, suggesting complementary products and so on and so forth. Turning website visitors into customers or leads, just as you would in the showroom, shop floor or sales office.
This type of outreach is especially useful in industries such as insurance, financial services, retirement products, or any kind of service that usually cannot be bought without consultation. In retail, automated chat boxes can prompt and remind potential buyers that help and advice is just a quick message away. Consumers are increasingly reluctant to call in to get the information they need; they want everything at the tips of their fingers ready for perusal, but that doesn't mean you should publish every last detail on your website. Agents can ensure they don't leave empty-handed and headed over to a competitor, by jumping in on live chat. They are then able to provide more information and show the people, personality and friendliness behind your company and brand so that they are more likely to come back, or at least feel more comfortable, to enter the next stage of the buying process.