Virtual call centers are becoming increasingly popular and it's easy to see why. Not only do they deliver savings for employers, but they also boost improved employee and customer satisfaction rates.
What is a virtual call center?
A virtual contact center is a 
call center
 where employees operate from separate geographic locations, rather than being located in a centralized office. This can include having a number of offices worldwide to take advantage of multiple time zones and labor benefits or having call center agents working from their homes.
Virtual cloud call centers eliminate the need for large, open plan call centers with a cacophony of call agents all answering calls at the same time. Instead, tranquility is restored as agents are housed in smaller groups or work is outsourced to countries with lower employment costs.
What are the benefits?

For employers, switching from a traditional call center to a virtual call center model boasts a number of benefits. Rent and operating costs are reduced due to less space being required for workers. Employee turnover reduces by up to 25% leading to a reduction in hiring costs and the pool of available call center agents widens, as there are no longer geographic hiring constraints.

Equally, a virtual environment is an attractive prospect for many agents. It reduces commute time, saves on transport costs and the hours are often flexible, resulting in a better work-life balance.
What should I look for in a virtual call center?
Remote 
call center software
 is proliferating but that doesn't mean all solutions are created equally. When consulting vendors, make sure you look for a virtual phone system that provides the following: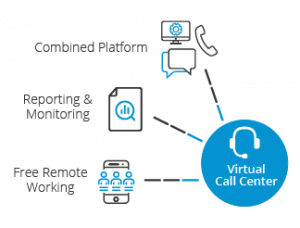 One, combined platform

 – navigating between multiple platforms wastes time. Call center agents will be more productive operating from a single interface, which combines calling, chat and their CRM to offer a true 

omnichannel contact center solution

.

Reporting and Monitoring

 – if you are a call center supervisor, it's understandable to have concerns regarding employee productivity if they're 

working remotely

. Choose a 

cloud contact center

 software that offers agent monitoring and training features such as listen in, whisper and barge to minimize these concerns and monitor your employees wherever you are.

Free Remote Working – Many providers charge an additional activation fee or per user charge for remote workers. Look for a provider like 3CX, where a virtual model is part of the package from day one and includes unlimited users for easy expansion.
How 3CX can help
The 
3CX call center
 module creates a seamless 
cloud contact center
 package for businesses of any size. Our web-based solution empowers businesses to deliver personalized and consistent customer experiences across multiple communication channels, whether agents are based at home or at an onsite call center.
Virtual call center software from 3CX includes:
A fully integrated live wallboard and switchboard: Queue managers can easily track agent activity with real-time monitoring from the 3CX wallboard. The wallboard highlights talk time, calls waiting, callbacks and more at a glance, so you can manage performance throughout the day..

Live Chat & Talk:

 Generate more leads by capturing website visitors whilst they're browsing your site. 

Connect instantly

 from your web client to assist with sales and support queries or book appointments.

Comprehensive reporting and analytics tools: 3CX Professional and Enterprise licenses include over 30 reports to help you monitor agent performance and quality of service. Reports can be delivered directly to queue managers' emails, as frequently as is required.

Advanced queuing strategies and call flows:

 Streamline the customer service process with strategic queuing and streamlined Interactive Voice REsponses (

IVR

) from the 3CX Call Flow designer. With 13 polling strategies to choose from, incoming calls are guaranteed to be distributed effectively. You can minimize wasted calls and free agents to focus on quality conversations.

Plug and play contact center integrations: Integrate

 your CRM, ERP and Accounting System with your call center solution and initiate calls with a single click. Additionally, there's no need to worry about manual data entry as 3CX updates call logs and chat records automatically, ensuring you have a clear audit trail for all interactions.