What are Omnichannel & Multichannel Contact Centers?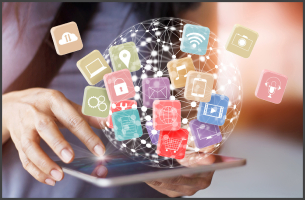 Customers are opting for various channels when communicating – Voice, SMS, email, chat, social media, and so on. In order to keep up with customers' demands for good quality service, many companies are having to make way for a 
multichannel
 or 
omnichannel
 contact environment to offer all forms of communication and improve the customer experience.
However, what is the use of having various methods of communication if these channels do not integrate with one another? Imagine a scenario whereby a customer contacts the company via website chat about a particular support issue, which is resolved. A few months down the line, that same customer is experiencing the same issue, but this time he/she calls in and is put through to a different agent. The agent cannot see the context from the previous interaction the customer had via chat, and so the customer needs to start all over again, explaining the issue. This becomes even more disjointed if the customer is bounced around to agents from different departments such as sales or customer care. Without the proper history at hand, the experience for both customer and agent can be frustrating to say the least.
Enter an Omnichannel Solution
In an omnichannel environment, a company need not offer all types of communication options, however, it must ensure that all communication methods integrate seamlessly. Customers can continue with a conversation where they left off, across any channel, and the agent always has a detailed customer journey at his/her disposal.
Similarly, the value of an Omnichannel solution is particularly clear in a sales scenario. A customer browses the web looking for a particular product on offer and perhaps chats to an agent via website chat. The customer goes away only to come back a few weeks later calling in for a quotation. The agent on-call can immediately see which product the customer was originally interested in, and can tailor the sales pitch around this, offering a personalized customer experience.
The Difference Between Multichannel & Omnichannel
Multichannel contact centers offer multiple methods of communication, but that doesn't mean that all channels are integrated to offer a seamless experience. An omnichannel solution, on the other hand, connects each channel of communication to offer customers and agents a smoother experience. Agents have access to case history, chat/call logs, contact details and more.
3CX Call Center Software
3CX offers advanced call center features in an omnichannel environment for maximum employee productivity and enhanced customer service. Sales, support and customer relationship conversations are integrated into one user friendly platform, and use the latest in unified communications technology. With the 3CX Live Chat & Talk plugin agents can chat, video and call with website visitors in real-time for a truly seamless customer experience. What's more, 3CX can be integrated with a wide range of popular CRM applications for the syncing of contacts, automatic call records and journals.