Many companies of all sizes and functions use Telekom Malaysia's (TM) PRI which carries voice over digital network using either copper or fiber cables into your office premises. PRI, or Primary Rate Interface carries 30 channels here in Malaysia using UK standards.
There are many hardware, like the one below that are used to connect your PRI to your PBX and once connected, at any one time, you can receive up to 30 incoming or outgoing calls. Companies sometimes have many PRIs since it only carries 30 channels to increase that capacity to 100s or even 1000s of channels depending on each organization's need. This means, you may likely have multiple PRI cables coming into your office PBX if you need more than 30 channels.
What is TM MLS ?
TM MLS or Multi Line SIP was introduced a few years back and now actively start encouraging customers to sign up for MLS rather than PRI. This makes sense as MLS uses an existing infrastructure laid for Unifi and Streamyx already instead of running coax cables all around new locations.
TM MLS is the replacement for PRI. PRIs won't be available anymore as an option to purchase even today. So companies need to start considering migrating away from PRI to MLS. But there are things you need to consider.
Time to say goodbye to PRISometime soon, TM will start sunsetting its PRI. This means, the entire infrastructure will be decommissioned in stages. We already have several customers that are required to consider and make changes to accommodate the change from PRI to MLS. This can happen to your company too. So start preparing to move over to MLS or similar services.
---
7 considerations when moving to TM MLS.
Here we dive and discuss 7 priorities to consider when migrating to MLS from an existing PRI setup. These are;
Telephone server or PBX
Office telephone number
Security & Privacy
Call volume or channels
Rental and other costs
Value added features
Fax and other telephony uses
---
1) Telephone server or PBX
TM MLS works on RFC standard internet protocol called SIP or Sessions Initiation Protocol. This protocol is an extremely mature and robust that superseded H323 and it can carry voice, video and text with higher numbers and call quality channels on a single cable when using fiber (as compared to PRI which is typically 64kbps and 30 channels respectively).
When you need to migrate to MLS, your PBX needs to support SIP terminations and would need to create a sip trunk. Many companies are still using traditional or aged PBXes that might not be able to directly support SIP. In addition to that, your PBX also needs to be certified to use TM's MLS through your vendors with TM's PBX certification program. Most old PBXes still only supports PRI cards or ports and some even cannot be upgraded or migrated to SIP capabilities. Some, however, can upgrade relevant hardware to support SIP at its termination without fully changing your PBX to IP, but this might cost you as most of these hardware could be no longer in production.
So if you're on an older/unsupported PBX, here are some options;
Get an upgrade of your PBX to be completely IP enabled

Or get a termination card that supports SIP/MLS

Get a SIP to PRI conversion device (a gateway)
Upgrading or purchasing a new PBX might be part of your current or future infrastructure upgrade plan(s) and it will cost you a heavy payouts to get that going, notwithstanding time and effort to change things around. With the cloud bubble expanding even more than ever seen before, organizations are also migrating to cloud telephony something like the ones offered by ORENCloud. Cloud adaptation is also due to adjusted governmental and industry accepted standards for embracing cloud safely and securely. With cloud, you pay as you go month by month rather than forking out hefley cost for upgrades.
For item 2, there are many products that do that on the market. We too supply specialised purpose built TM MLS to PRI converters that are cheap and robust to do the job. However, your existing PBX must support a different kind of protocol that chains two PRI devices together. This is not always possible as some PRI cards/ports can only support telco type of termination, e.g. TM's PRI. In that case, your only option is to upgrade the entire system. If you wish to test if your PRI is capable for chaining, let us know by contacting us here.
2. Office telephone number
This is the question everyone asks. Most of the time, TM will allow routing from PRI to MLS, this means, you get to keep your sets of numbers in tact, which includes the pilot and all individual numbers or DIDs. This also applies when you move to cloud, your MLS can be literally anywhere and TM can route those calls to the specific MLS location of your choice. This is a great enabler for cloud PBXes. Many of our customers have moved their PRI to MLS and the MLS is located at our data centers and not at their premises.
If you're using a toll free number as the main purpose of using PRI, then it is even easier, you just then need to ask TM to route the 1300/1800 destinations to the new pilot numbers from your newly provisioned MLS.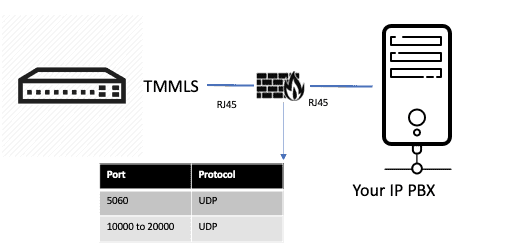 3. Security & Privacy
Since MLS uses internet protocol (IP), this means, if in an unlikely event of a breach at TM's assets, bad guys can have access to your network. All it takes is someone to access the internal networks of MLS and they can perhaps have unfettered access to your PBX and possibly to your internal network too.
It is important to isolate MLS network completely. Consider the following;
Put a firewall or sessions border controller (SBC) before the PBX so that you only allow SIP related ports. From TM's equipment to TM's infra, there's no need to block anything but from TM's Ethernet cable to your PBX, only allow SIP 5060 and several RTP ports as required by your PBX, something like 10000-12000 (range) is probably sufficient. You need to refer to your PBX setup guide on the ports required to be opened. (see diagram below). However, i am opined that an SBC isn't needed as this is not publicly exposed, it's only an internal private network built by TM's routers and modem.
Set up restrictions on your PBX IP access control list or firewall to only allow those ports if it's possible, as many PBXes are basically software sitting on OSes like Windows or Linux which have firewalls built in them.
On a side note, if you're upgrading to a SIP / IP PBX or are already using it and you wish to expose it to your company users outside of the office network (the internet) so people can use the phone system anywhere through a software phone or similar, be sure to secure your PBX exposed on the internet. You can use a VPN or a SBC in this case or a firewall that is aware of SIP applications and can protect your PBX behind it. SIP attacks are rampant these days where mostly brute force password attacks trying to register to your system and make expensive calls to exotic numbers and services. See an article here on toll fraud.
4. Call volume or channels
TM publishes that each physical line can have a maximum of 128 channels (that's a little more than 4 times of the capacity of a single PRI). If you need more channels, you could speak to your account representative in TM. We have deployed a campus setup that could handle up to 500 channels on a single cable but that's on a case to case basis.
Otherwise, you might need more MLS physical lines inbound. You need to take that into consideration especially if your PBX has limited RJ45 ports or you need to put the MLS behind a switch that will then send one or more MLS registration to your PBX.
5. Rental and other costs
The good news is, TM MLS rental is going to be cheaper. However, you still need a RM200 installation charge plus a RM1500 refundable deposit. Let's take PRI for example, it will roughly cost you RM900 per month for the rental of a PRI whilst with MLS, it's just RM750 per month and you get 32 channels. See table below for prices that we got from here.
The DDI number here is sometimes also called your DID numbers and it's usually a range of block numbers given to you which you can distribute it to your company individuals. The call charges will also likely be lesser.
Of course, there's also cost of upgrading, maintaining and supporting new IP based PBXes and those too need to be considered moving forward. Alternatively, you can consider migrating to Cloud. Cloud telephony is growing in popularity and we've seen a sharp uptake since the Movement Control Order first initiated by the Malaysian Government last year to curb the spread of Covid-19. Cloud phone systems are secure, easy to use, works from anywhere and is simply cost effective for most organizations with the model of distributed (opex) cost rather than massive cash outflow investments (capex).
Here's an article on cloud telephony provider considerations and also security/stability considerations when choosing one.

6. Value added features
TM MLS doesn't differ much in terms of features however, you need to know precisely what Value Added Services of TM MLS are, for instance, caller identification (inbound) is an optionally paid service. Otherwise everything will work just like how it would using PRI, you have outgoing number presentation, hunting facilities (one number many calls), forwarding (with cost) and it's easy to upgrade without pulling new cables. For example, you're on a 64 channel plan and you need additionally 32 more channels, it can be done from the same MLS cabling that's already there.
You can also downgrade the channels if you don't need them. The DID or DDI is also selectable unlike PRI which is fixed at 200 per PRI line. When you physically move locations, it may be much easier to keep your MLS numbers within certain conditions set by TM.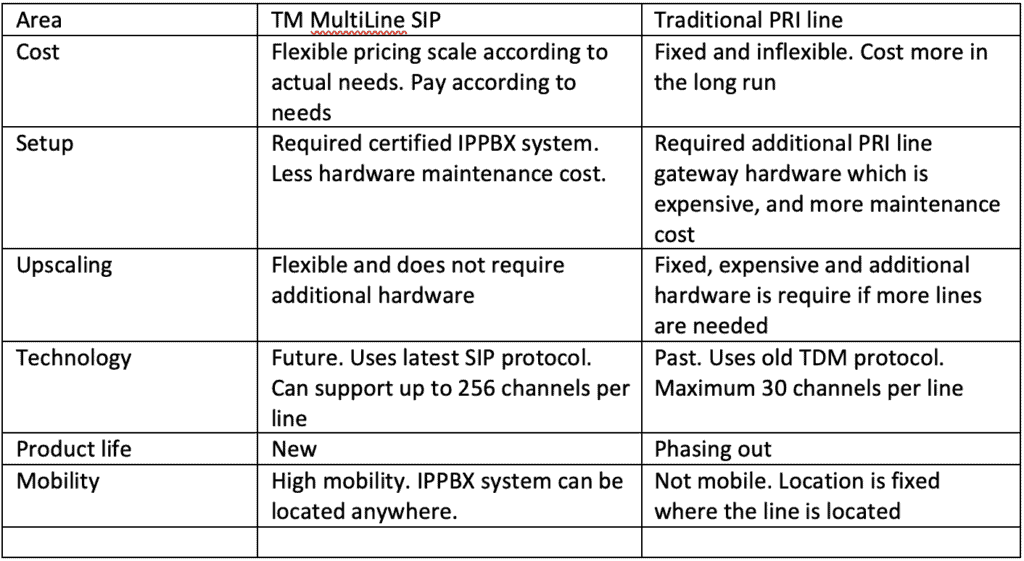 7. Fax and other telephony uses
Based on our tests so far, TM's MLS can handle fax without any problem, this is done through T.38 or FOIP (Fax over IP) or G.711 (voice). We recommend that to use this protocol within the SIP stack of your PBX. However, we found that it works fine without T.38 and using traditional methods (through g711 codec) albeit less reliable (e.g faxes come with thick black bars or distorted prints). T.38 however is far more reliable as it handles packet losses within its protocols to make faxes solid and reliable.
NOTE: We have YET TO TEST MLS with credit card machines or any other use besides voice (e.g. alarm systems) however we don't think it will an issue.
Here's a comparison table we made just to give you a glimpse of the differences between PRI and MLS offerings from TM.
So in conclusion, please consider migrating over to TM MLS to be future proof, reduce cost in the long run and probably scale up or down easier as your needs change.
---
Astricloud provides certified (Cert number: ST CPE 011/19) Telekom Malaysia TM MLS gateways and IP PBX with built in security with over 150 rules to protect against intrusions originating from any networks connected to the PBX. ORENcloud provides cloud facilities that are certified by MCMC and fully supports TM MLS and any other SIP, H323, IAX2, Skinny, SS7, PRI, analogue and other telco termination requirements on a private or public cloud.